Encounter an idiosyncratic cottage accommodation with top-tier hospitality, offering you numerous options that complement your lifestyle, replete with delectable cuisines, areas for Cultural Activity, and top-notch amenities.
Get an experience of Lifetime at Statue of Unity which will be grandeur in every sense. Whether through your stay at the Swiss cottage of Tent City 1 offers you affluent hospitality or by merely soaking stimulation from the giant statue in the world located in the proximity.
You need a minimum of 2-3 days to encounter the colossus and nearby sight-seeing and destinations. That falls into Eco-Tourism, Urban Tourism, and Cultural Tourism.
There are various stay options available.
1. Statue of Unity Tent City – 1        Book Now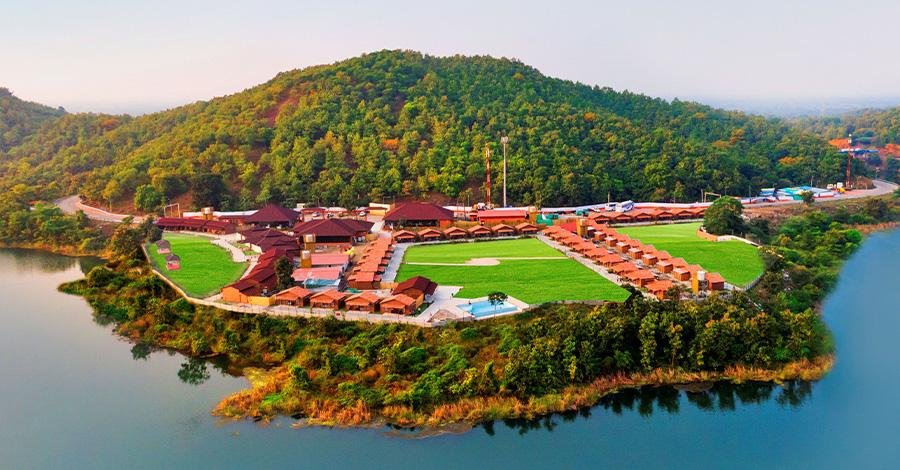 For the best experience and enjoy the fullest, we recommend stay options near statue of unity. There are two choices, as per your budget. If you want a Luxury and Leisure stay, you can go on with the Statue of Unity Tent City and if you are running tight on your budget and looking for only a place to crash, you can go ahead with the Tent City Narmada.
Accommodation in Tent City 1 is elegant. Cottages cum tents for an unforgettable pleasant and moderate stay. Surrounded by Hills, Forest, and lakes, the distance from the Statue of Unity is just 5 km. Nature lovers would love the lake-facing cottages, and it would be an excellent experience for them.
Unique Luxury Tented Accommodation package
1Night and 2 Days
The Package Starts with ₹11,000
2 Night and 3 Days
The Package Starts with ₹20,000
3 Night and 4 Days
The Package Starts with ₹31,000
You cannot only book a stay or only an itinerary. The Package includes Pure Veg / Jain food with Sightseeing as per Itinerary for all our Inhouse Guests.
If you love adventure, you should try River Rafting on Narmada. Narmada, the top most west-flowing river in the country and the lifeline of millions, has ushered in the thrilling experience for the adventure enthusiasts who can now enjoy river rafting in 4.5 km range, providing an extraordinary rafting experience for the first time in Gujarat.
2. Tent City Narmada – 2                 Book Now
These are different categories of Attractively designed Tents suitable for all seasons. Surrounded by Hills, Forest, and lakes, the distance from the Statue Of Unity is 3km. I was observing the sunrise and sunset. Boating here is a good experience. It is just 200 meters away from the biggest lake near Sardar Sarovar Dam.
To suit the requirements of every visitor, this Package includes Pure Veg / Jain food for all our visitors.
Here you have a total of 4 different types of tents to stay in and experience incredible views and Nature. You have Deluxe Ac Tent, Premium Ac Tent, Mini Darbari Ac Tent, and the last Darbari Ac Tent which can accommodate a total of 5 guests at a time.
The prices of these tents are:
1Night and 2 Days start from ₹6,000
2 Nights and 3 Days are ₹12,000
3. Unity Tent Resort                            Book Now
Unity Tent Resort is located approximately 8-10km from the Statue of Unity. This resort has many tents arranged in circular paths. The tents are refreshing and are all well managed nicely. The rent for one night's stay is Rs.4000, including all meals. Excellent tent resorts with great pricing and services; not too far away from SOU.
The Food is excellent, and the team is terrific—a nice option for a great stay within budget.
Unity Tent City offers a range of amenities that gives you in-house dining facilities to ensure a comfortable stay. Few outdoor games are available in the Tent for visitors.
4. SOU Eco Camp                               Book Now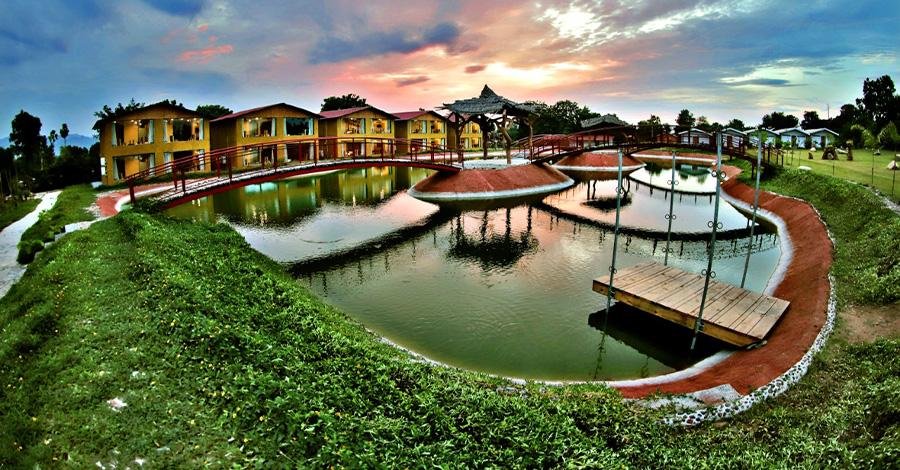 Statue of Unity Eco Camp offers different well-furnished rooms equipped with modern conveniences and comforts. A good stay overall. It will be more maintainable and reliable to use solar water heaters. We had breakfast at camp. All Cross camps have lake views. Family tours for 9-10 persons can enjoy across the camp with more than enough attached washrooms. Tent rates are genuinely cost-effective. They have all their meal plans.
Everything was clean and tidy. The staff was terrific; the food was excellent with live music—a bonfire with live music providing a totally fantastic experience.
5. Unity Village Resort                      Book Now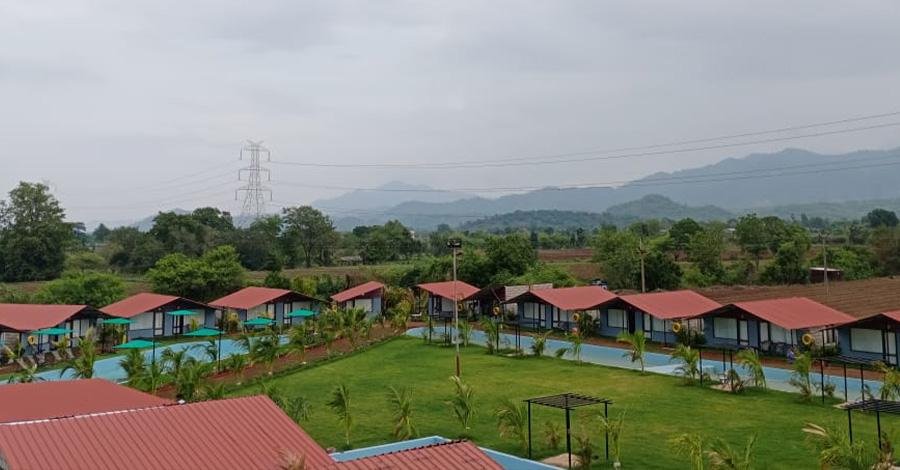 Good resort. The staff was courteous, and the resort was close to the Statue of Unity. The garden and walkway path was good; children played in the garden area. This resort is at Ekta Nagar. It had In-house dining facilities. Ensure that the price of a two-bedded room is approximately Rs 5000. Unity Village Resort is rolled out in the landscape with beautifully and well Equipped designed Cottages surrounded by Nature and mountains.
6. Maharaja Tent Resort                         Book Now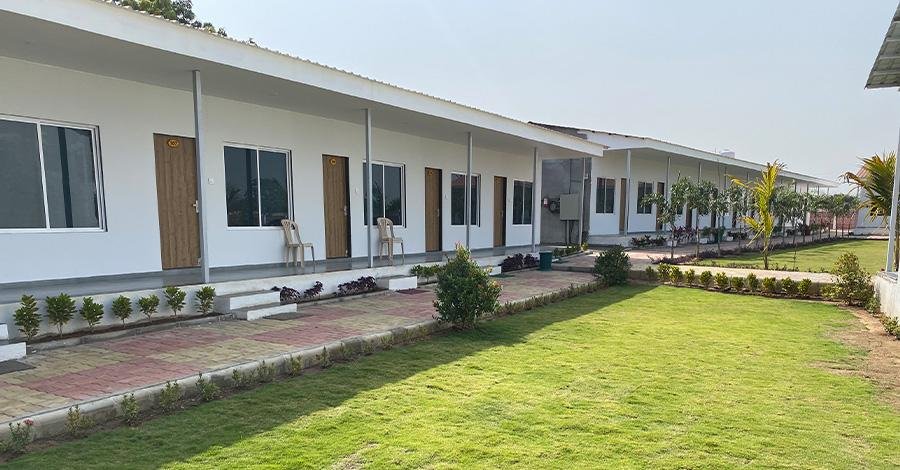 A perfect place for visitors which gives an excellent experience of stay in the Maharaja tent. The Swimming pool is good and well maintained. Visiting this restaurant, you will get open sitting arrangements for group people, making it a likeable and comfortable place for visitors. In all, the service and food just made dinner lovely. Recommend this restaurant when you are here near the statue of unity.
The activities around the artificial lake were good enough for spending quality time. The biggest surprise is morning trekking, and some activities which are very energetic and helpful. Even a crocodile park is there for guests.
7. River View Tent Resort                  Book Now
We loved the ambiance, perfect location and the nice view of the Narmada river from the Immaculate tents. The holidays provided an exceptional stay to us with a complete package. River View Tent Resort is a reasonable choice for travelers looking for budget accommodation in Rajpipla at a starting price of Rs.5000 approximately. It is located in Garudeshwar.
From all the Budget hotels in Rajpipla, River View Tent Resort is popular with tourists. You can find numerous hotels in Rajpipla under different categories, and River View Tent Resort is one of the best hotels under its category.
How to Book a Tent House?
Booking is not possible on the spot. The booking procedure has to be in advance for accommodation at Tent. The statue of unity tent booking includes everything mentioned in the Planner. There are many ways to consider booking tents at Narmada tent city. You can also visit their website.
For cancellation and a confirmation email requesting is mandatory. The booking confirmation is authenticated after full payment is paid in advance. Book your Tent House now; to enjoy your holidays by spending quality time with your beloved ones, experiencing the fantastic sites, and witnessing the beauty of Nature. If you want to observe and entrap the engaging views of the Sardar Sarovar Dam and the surrounding pleasing environment, confirm your stay at the Statue of Unity Tent City.
Your Tent city booking includes tickets for the Museum, Laser Show, Valley of flower, Sardar Sarovar Dam viewpoints, and Bus Service. Tickets are strictly subject to availability.
Guests booking is allowed. The tent city has an accessible parking facility available.
Conclusion
Gujarat became a tourist destination hub. The Statue of Unity is a pre-eminent place for visiting on your holiday. Book a suitable package at the Statue of Unity Tent City for a relieving stay experience and witness the tallest man-made structure in the world.
The resort is designed to attract tourists from across the world, making their trip distinctive, so they can cherish it for a lifetime.