You Should Visit Theme Based Gardens at the Statue of Unity
We all know about the Statue of Unity, which is the newly added tourist wonder in India. It is a colossal statue of the famous Indian freedom fighter Vallabhbhai Patel. Open for visitors since 2018, it saw 2.8 million visitors in the first year itself and continues to be on many people's bucket list. However, many of you are not aware of the places to visit near the Statue of Unity.
7 theme-based gardens near the Statue of Unity
Many tourist places exist near the Statue of Unity, like Shrestha Bharat Bhavan and Circuit House. However, there are also theme-based gardens in the locality. These beautiful theme-based gardens are one of the best tourist places near the Statue of Unity.
Arogya Van
Arogya Van simply means "herbal garden". Covering a lush green area of 17 acres; it exhibits a huge variety of medicinal plants and health-related prospects. This garden aims towards raising awareness about the contribution of plants, meditation, and Ayurveda to our health. It has five gardens inside, namely Garden of Colours, Aroma Garden, Yoga Garden, Alba Garden, and Leute Garden. Take a break from your tiring routine and head to this garden to relax.
Butterfly Garden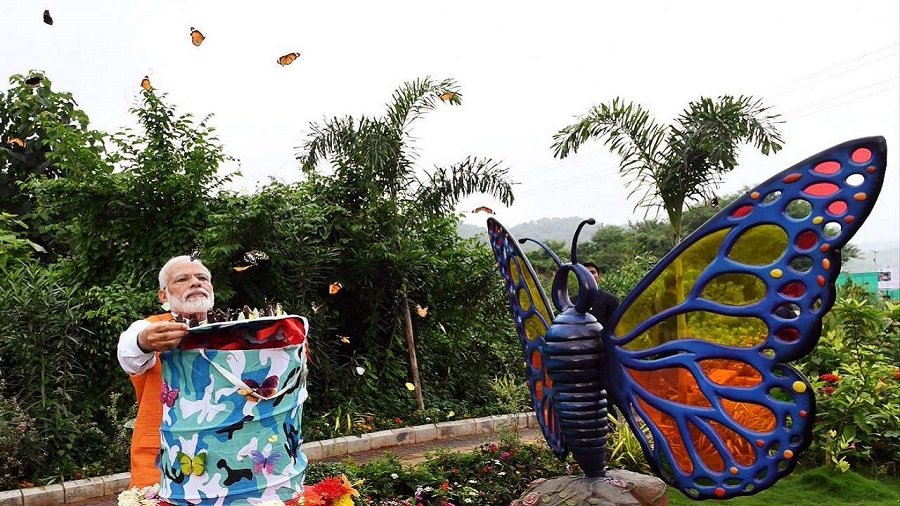 This beautiful butterfly-themed garden is situated near the banks of the Narmada river. About 70 different species of butterflies dwell in this garden. Since butterflies feed on nectar, the garden houses hundreds of flowering plants as well. Take a walk in nature and explore the lovely butterflies closely. People often visit to enhance their knowledge too.
Cactus Garden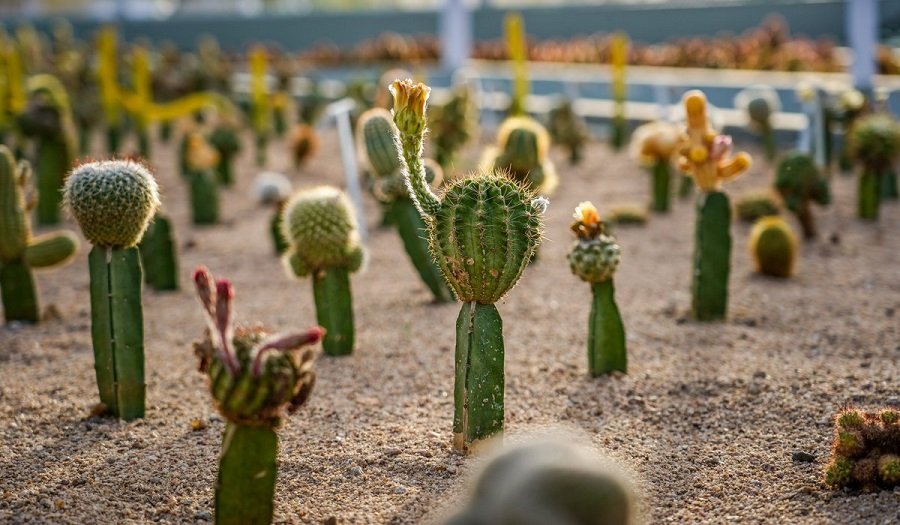 This unusually themed garden is equally interesting, with nearly 450 varieties of cactus and succulents. Spread over an area of 8 acres, it houses different species of cactus from India as well as other countries. Apart from cacti, the garden features solar energy and about 2.5 lac ornamental plants too.
Ekta Nursery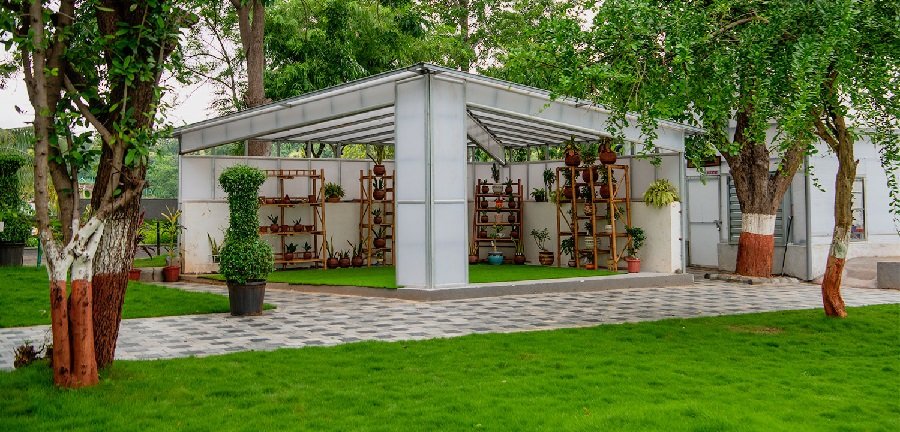 This enthralling nursery was envisioned by the Hon'ble Prime Minister of India, Shri Narendra Modi. The garden is one of the most attractive places to visit near the Statue of Unity, showcasing educational and employment purposes. The main attractions include bamboo handicrafts, organic pots, bonsai, soil-less farming, apiary, and Kadaknath (the black-coloured chicken). You can also head to the cafeteria and try Herbal Tribal Tea – a unique beverage of this region.
Vishwa Van
This modern themed garden aims towards the importance of 'Unity in Biodiversity'. Also known as the Global Forest, it houses herbs, shrubs, and trees native to all 7 continents. The vegetation covers an area of 5 acres and is arranged in such a way to mimic a real forest with regular maintenance. The garden also features traditional structures from around the world. These are namely Fiji House, Bali house, African-Louisiana Conference Area, Maloca House, and Pagoda.
Valley of Flowers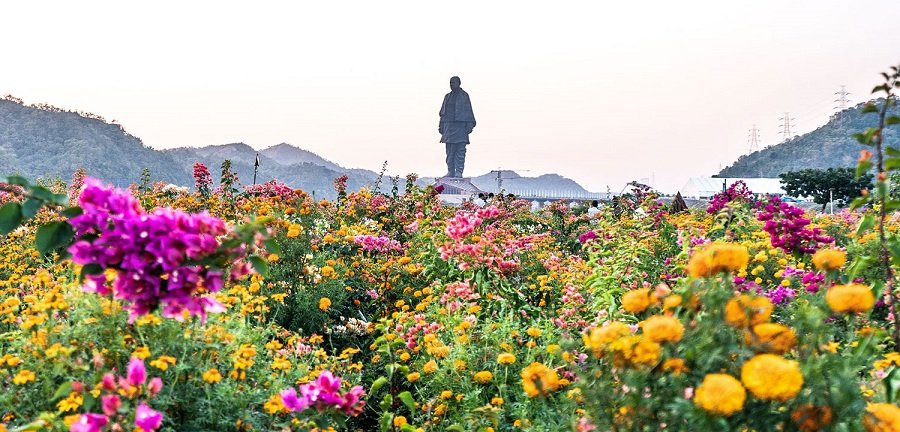 Also known as Bharat Van, this huge garden covers an area of 24 acres. With over 20 lac colourful flowering plants, it is like heaven on earth. The green cover is formed of ornamental flowers, trees, shrubs, herbs, climbers, and creepers. You can also click beautiful photos at several photo booths and selfie points. While visiting in winters, you can catch the mesmerizing flower show!
Unity Glow Garden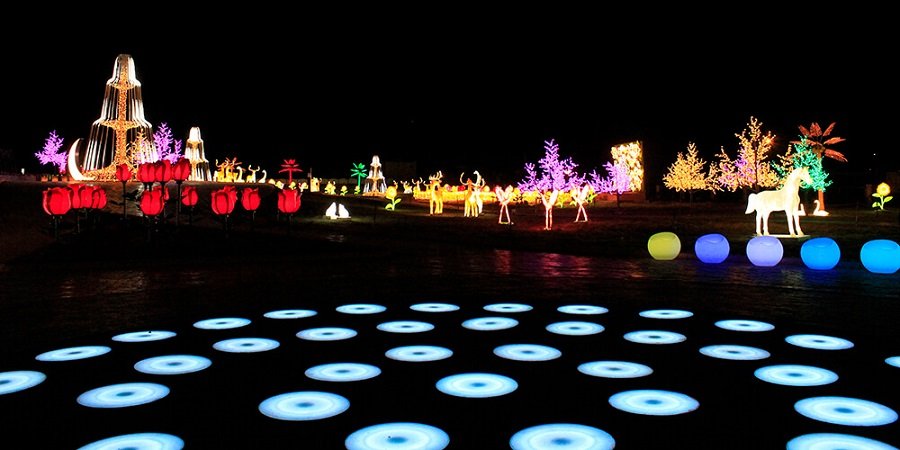 This night theme garden is a visual treat with hundreds of vibrant structures. These structures include glowing figures, installations, and optical illusions. The garden also features an LED fountain that displays water with glowing lights as well. This place has already gained popularity due to its uniqueness. No doubt it is one of the best tourist places near the Statue of Unity for night time!
The Statue of Unity is a majestic structure that has entered the bucket list of places to visit. However, the locality is home to many other places worth a visit. Themed gardens, with their natural beauty, are appealing to millions. The gardens near the Statue of Unity are beautiful and give you an enchanting experience as you stay at the Statue of Unity. The option of booking your stay and visit to the Statue of Unity and nearby attractions, you and your family are all set for a journey of natural beauty